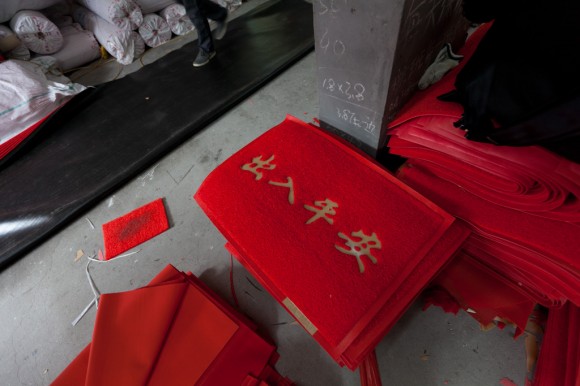 Next: The 100 Locations Across China Task &#187&#187
&#171&#171 The Number of Pieces, The Number of Suppliers Task

Welcome mats come in various standard sizes – we opted for a size large enough for the whole to have visual impact, small enough for individual pieces to be manageable by a one person – 120 x 80 cm (the other standard sizes are 90 x 60 and 150 x 120).
The optimal number of pieces depends in part on budget, geographic spread – did we want to source from a dozen locations or thousands? In the end we settled on a manageable 100. More mats would trigger different kinds of logistical issues – although in principle we wanted to get a sense of what would scale.

A Chinese flag divided into 100 pieces will have 14 pieces that include part of a yellow star, and 86 pieces that are pure 'blood' red – the far right design below (the far left design being 64 pieces and the middle design being 81 pieces).
As a sub-task a new designer was engaged to divide the original map vector graphic into 100 separate pieces, aside from the plain red mats there would 14 customised designs that would need to be commissioned.
A blank red mat costs around 45 RMB (€5, $7) and a custom red mat with part of a star based on a vector graphic design costs from 120 to 420 RMB (from €14, $19).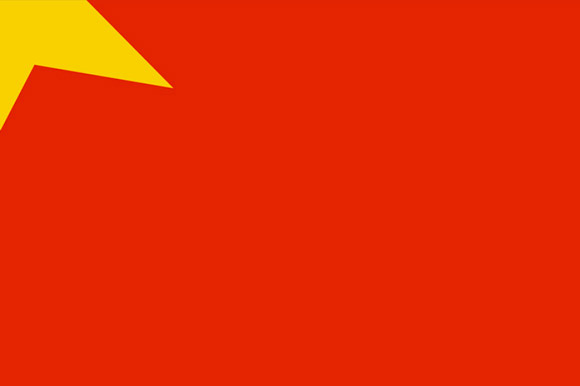 The 14 customised mat designs are: 1, 2, 3, 4, 5, 6, 7, 8, 9, 10, 11, 12, 13 & 14.

Next: The 100 Locations Across China Task &#187&#187
&#171&#171 The Number of Pieces, The Number of Suppliers Task