Early morning telco with the LA design team. In the daze of the morning managed to misplace the local Chinese teleconference details so dialing directly to the US – the sound quality leaves our distant others sounding like a raspy, chain smoking mama-san who has spent far to long karaokeing the night away and not enough time sleeping. Just like us then. Except replace the karaoke with a thirst for knowledge. John and I are we're both hunched over a mobile phone speaker in a physical proximity that can only be described as 'familiar', poor audio quality bringing people together, eh. Through the window drifts the sound of Lhasa waking: hand drawn carts trundle down the alley; a DVD of monks chanting from a nearby chai house and a squad of Chinese soldiers emerging from the neighbourhood bath-house that is now their billet, taking formation before marching off.
The military presence here has been significantly stepped up since the recent riots, and the recent events in Xinjiang has no doubt put the authorities further on edge. The sheer numbers of soldiers on the street makes for a curious Lhasa experience – a reminder that someone expects things to kick-off at a moments notice, combined with the ability to throw large numbers of bodies at the issue.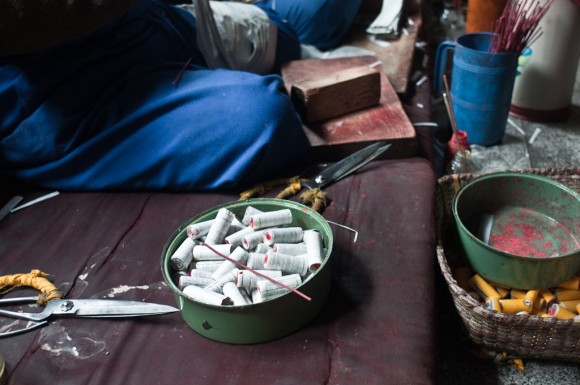 Walk for a couple of hundred meters in any direction will yield more of the same five strong squads if space allows standing to attention in a dice formation, or lounging against the alley walls dressed head to toe in riot-control green khaki: black boots; knee and shin pads; a visored helmet; and an extendable metal baton. One shotgun between five; one a small green satchel; and a small metal case that looks like an impulse purchased discount basket at Wickes. A fire-extinguisher sits at their feet – conveniently at hand for a small fire or immolation. Wondering if they import any of their crowd control needs from my country or yours, self sustainability is a wonderful thing.
Telco over, an hour's sleep to catch up on before the next.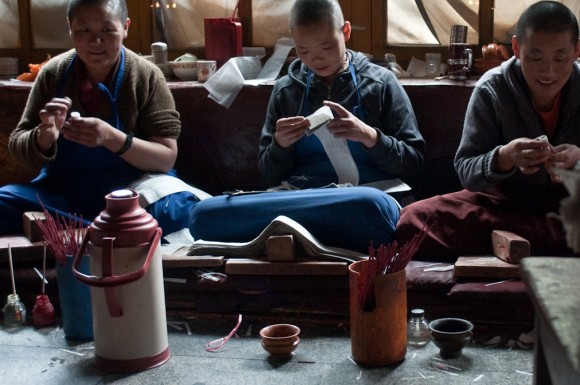 This mostly Buddhist city serves up numerous delights for the inquisitive atheist – the hotel is situated in the Muslim quarter of the old city, with the minaret of the local mosque a mere yak meat-filled-momo's throw from our rooftop terrace. It was with slight reservations I wandered in to better understand the faithful making their way to the evening prayer – reservations that were quickly met by devotees beckoning me to join inside. A tip for the novice devotee – if you decide to cover your head with a baseball cap be prepared for the ergonomic nightmare that is touching your forehead on the mosque floor.