The train journey from Chengdu to Lhasa takes 48 hours and 3 minutes. Before boarding passengers have to sign a waiver form saying that they don't have any significant ailments and that they are medically fit to cope with altitude – the highest mountain pass the train travels through is at 5000 meters and altitude sickness can start at around 3500. The form has been roughly (mis)translated into English including 'passengers are not suitable travel to the plateau area … when they have one of the following diseases … (f) highly dangerous pregnant women'.
The good news is that after 12 hours on the train I've yet to be attacked by a highly dangerous pregnant woman. I do however have had to cope with a dining car waitress who runs a side-line in selling an eclectic range of goods and she appears at my door every few hours with a different tray of goodies. The magnetic jewelry was just that, and her super tough socks which she ably demonstrated by running a wire brush across its surface looked like a steal. Just before we pull into Lhasa she's tries to flog me some strawberry milk tea and a Chinese language train time table. I can't explain the former but a train buff might appreciate the latter. However despite having taken the trans-Mongolian express this time last year I'm not especially enamoured by trains.
My home for the 2 days is a soft sleeper – one of four bunks in train compartment. It's off season and I've got the space to myself. Travelers to Tibet are supposed to be on a tour group but last year I discovered a travel agent in Chengdu who can set up a group of one – here are the tickets, have fun. The train is modern and the compartment has an electricity power socket and each bunk a flat panel TV showing Chinese VCDs. Fortunately it cuts out half an hour into the journey never to return. The compartments next to me are filled with chain smoking, tangerine munching, card playing Chinese gentlemen on their way to a holiday Lhasa – their carpeted floor is littered with the detritus of, well, card playing, chain smoking, tangerine chewing Chinese gentlemen. Not bad for a no smoking train. It doesn't take long before they make themselves at home in my space.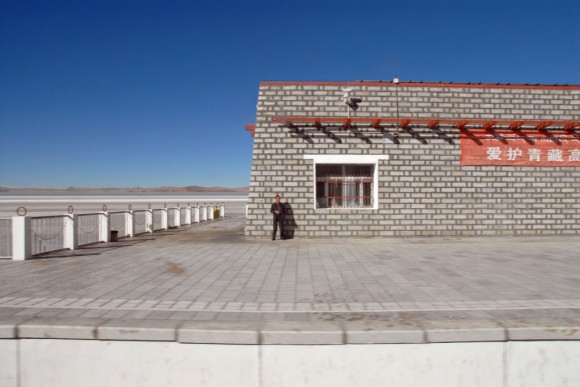 The journey itself offers up all sorts of magic, not least waking to a moonlit and frozen steppes and gazing up to a constellation filled sky. That hissing sound? Oxygen being piped into the carriage.
A train cleaning crew stands to attention on the platform as the train pulls into Lhasa station, their mops and brushes presented like weapons on a parade ground. Lines of cleaning crews are a common sight at airports for some reason they always seem too dressed too lightly for windswept context. China has a habit of throwing up unexpected contrasts – on a late night arrival at Chengdu Airport watching a cleaning crew cycle in a column across the vast tarmac landscape under the shadows of sleeping giants going by names such as Sichuan Air.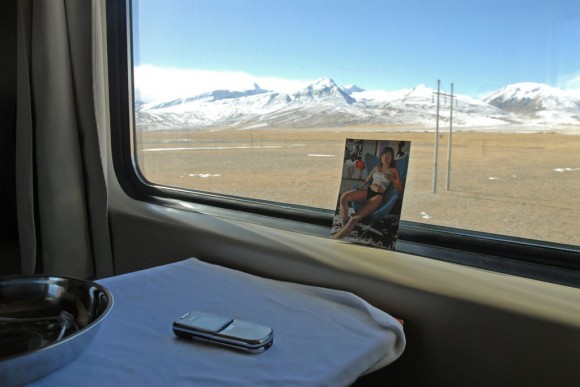 My home for the next few days is the Yak Hotel. If you're in Lhasa this is a good place to be.