A hand pushing the entrance door to a unlicensed movie theatre in Dharavi, Mumbai – the movie playing can be seen through the peep hole. Similarly styled service offerings can be found in the back streets of Chinese cities such as Chengdu. What are the similarities/difference between Chinese and Indian microplexes?
In Dharavi 5 Rupees (10 Euro cents) buys you sitting space on blanket covered floor; those in the front 'row' are required to lie down to see the screen; in the company of a male-only audience – packed even in the middle of the day. The schedule is drawn from a huge selection from world's most vibrant cinema culture.
In Chengdu 2 – 3 Yuan (20 – 30 Euro cents) buys you: a seat on a wooden bench in the company of male manual workers; a cup of green tea, and the latest Chinese action movies shown on an over sized TV. Punters who are unhappy with this particular action movie can pop next door to a competing cinema to watch a different action movie.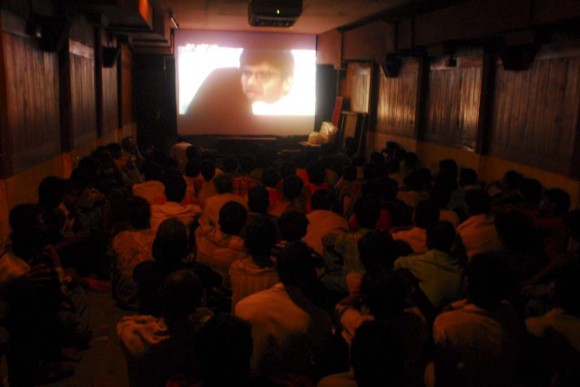 Oh, and just because its unlicensed doesn't mean it's untouched – someone, somewhere will be receiving a kickback to 'allow' it to operate.