It's been three days since the bulk of the team touched down in Accra. Day+ travel times take their toll and we're relieved to sail through immigration and customs. It's not always so smooth – our two pelican cases stuffed with recording equipment tend to attract attention and we know exactly how long it takes to double check the serial numbers of each and every item. The closer we are to a shower and a cold beer the bigger the multiplier.
For some of the team – it's their first time in Africa. We're all new to Ghana. The first time someone arrives in a continent they often refer to the continent name, and not that of the country. Even on this global study we need to be thinking at the level of the city, community, family and individual. Plenty of time for abstraction later.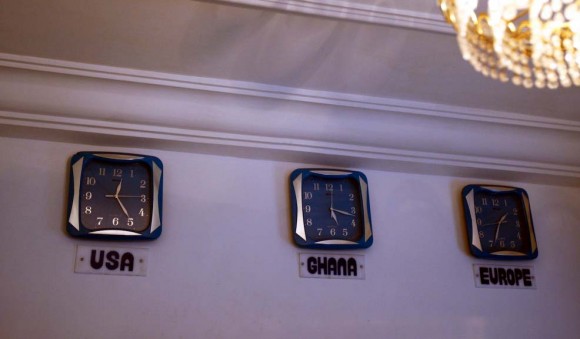 Three clocks hang over the reception – displaying the time for Europe, Ghana and America. Someone unilaterally decided to standardize the time zone for two continents. Is this just another form of asymmetric warfare?
The rooster outside my window has been going at it since 4am. Somewhere along the corridor a team member stirs, time to start the working day.