Our home for the last few nights has been located in Campeche a small surfing community nestled on Brasil's South Atlantic coast. It's somewhat of a relief to move out of Kobrasol – both in terms of creating a mental and physical distance between ourselves and the environment that we have spent the last 8 days researching, but also because we were situated in a dense urban sprawl with so much natural beauty nearby.
I'd like to say that I awoke this morning to the sound of crashing waves, but despite our stones-throw proximity to the sea the reality is far more mundane – at dawn a nearby rooster belted its lungs out. This was followed by 10 minutes of what sounded like someone quickly and repeatedly exhaling air through their nose but in fact turned out to be a combination of a vocal bird and the vivid imagination of lying in a beta-state. Local fowl aside, the distinct lack of distractions makes Campeche a good space to discuss, discuss and discuss again the focus of our research.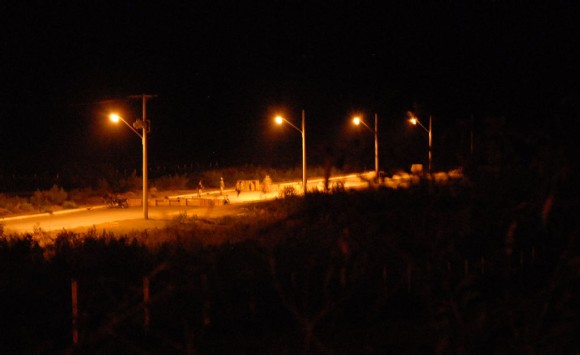 The hotel lies sandwiched between the beach and a road that runs the coast. At night the noise from a local football game drifts over nearby wasteland: the squeak of rubber on asphalt; the sounds of the ball being flipped, tipped, nudged and occasional kicked (this is after all Brazil not Hackney Marshes), and when a goal goes in a acknowledgements from spectators and soon-to-be-players. The pitch has been set up directly under one of the sodium street lights and is book-ended by barricades constructed out of old furniture, boxes and salvaged wood, its design? – to reduce the amount of time chasing wayward balls. The pitch itself is 15 meters long and exactly one road-width wide enabling a skillful player to use the kerb for quick one-twos. The goal, constructed from more salvaged wood is backed by a sack that at first glance is designed as a net but from further observation is really there to lend authority to the playing experience and to make it easier to distinguish whether the ball has passed between the posts. Each goal is less than 1 by half a meter and this small size helps explains why despite the skill of the players and the fact that they are playing 3 on 3 more goals are not scored. We're in the middle of a mild winter here in Brazil and the dress code is t-shirts, shorts and by and large, beat up skate shoes. The choice of footwear is somewhat surprising given that shoe shops here stock large amounts of futbal shoes, but skate culture is also pretty prevalent. The first team to score two in a row, wins and the losing team is replaced by three pairs of fresh legs. Logic dictates that at this pace the winner's will eventually have to retire worn out by the constant barrage. But for the duration of my stay one, skillful team remains on the pitch.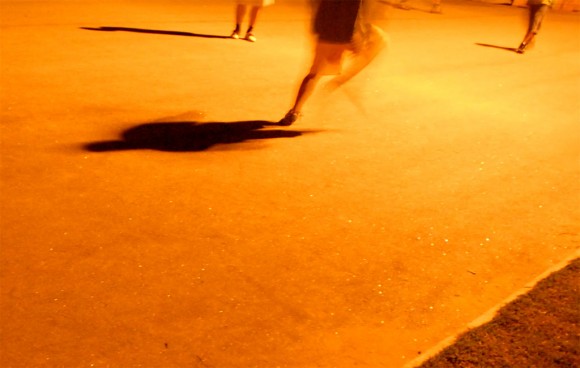 Three nights in a row they have been playing here, maybe they are here every night. It's always a pleasure to witness the passion with which people do what they do whether its cricket on the streets of India, basketball in China or, like tonight, street football in Brazil.