My office for the next two weeks is a townhouse /guesthouse close to Delhi's CP. The house is owned by an English couple who now spend most of their time on an estate just outside Delhi, and its current occupants are the 5 members of our research team plus the Nepali housekeeper and her family. It is welcoming, comfortable and coincidentally very, very English (including little touches like afternoon tea).
It's 5am as I write this and the first strains of sun light are peeking through the expansive mosquito screen and beyond that the canopy of a tree on the front lawn of the house. My body clock is halfway between Tokyo and New Delhi which according to the Windows time zone application puts me somewhere near Krasnoyarsk. The fresh morning air drifts through the house accompanied by bird-song and the distant but frequent sound of trains shunting along to Old Delhi station.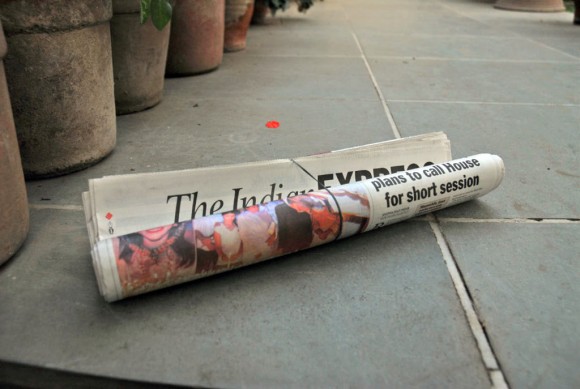 So what are we doing here? The fixed part of the plan is to run a series of focus groups to understand the pros and cons of various concepts. As with a lot of these studies the contextual work that happens around the edges is expected to also yield rich data – observing and documenting the contexts in which the concepts will be used, contextual interviews, and exploring themes such as rituals, customisation, repair cultures, coping with dust and dirt as well as generally trying to understand what both unique and the same about the Indian (communications) context.
The guesthouse is a conducive space to running this kind of study: the expansive and airy lounge can comfortably cope with the team and our 5 assistants (and at night a mattress is rolled out in one corner's it becomes my bedroom). A researcher from Hyderabad is asleep in the master bedroom which is now doubling up as mission control and the mobile office is unpacked and the walls are starting to be covered with data, schedules, photos and sketches of new design iterations. Further along the corridor are the sleeping bodies of a Canadian concept designer living in Helsinki and a Chinese colleague from, um, China whilst the final member of the team – an Indian studying in Helsinki is housed in a room on the roof of this one story building. In a choice between a regular corporate hotel with all mod-cons and this guesthouse with shared living quarters I'd take this any day. There are numerous benefits from having the entire team stay in one space – the net result of which is that we live, eat and sleep the research topic for the duration of our stay (and having access to a housekeeper makes life easier too).
6:30, the newspapers have just landed on the path and the house begins to wake.